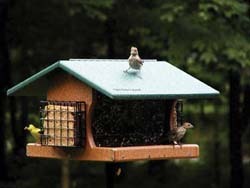 A Bird's Dining Dream Come True
The EcoTough® Ranchette Retreat bird feeder is a fully functioning bird buffet that holds two gallons of seed and two suet cakes. With such a variety of food, you'll likely attract many different species such as jays, chickadees, woodpeckers and more. Also, the Ranchette Retreat's screen bottom lifts out, making it easy to clean.
EcoTough feeders and houses are environmentally friendly, high quality products that are made from recycled plastic milk jugs. These feeders and houses prevent used milk jugs from making their way into our landfills. EcoTough feeders and houses won't rot, crack, fade or warp like wood can. They also come with limited lifetime guarantees.