From the Woods to Your Yard - Our Seed Characters Are Back!

Now available for a limited time only: Olive the Owl, Rascal the Raccoon, Peanut the Squirrel, Hoot the Owl and (shown below) Buttons the Snowman, and Preston the Penguin! And our newest member, Blaze the hot pepper Squirrel!
Our Seed Characters are a fun addition to any bird feeding station. They can help you attract many of your favorite backyard birds, including chickadees, nuthatches, titmice, goldfinches, cardinals and woodpeckers.
Why not bring one of these whimsical Seed Characters to your yard?
They make the perfect gift this holiday season. Seed characters are best offered on one of our
many Seed Cylinder Feeders. See sales associate for details or call the store for more information.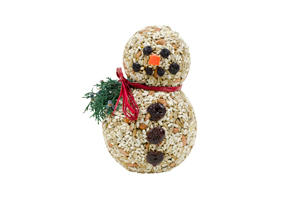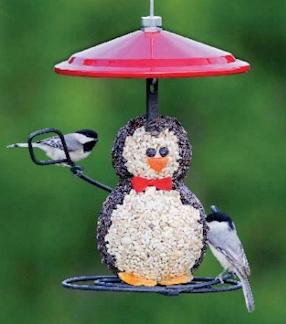 Many of our other immensely popular holiday seed items are also available: Seed Wreaths - in Cranberry or hot pepper Cranberry,
Wren Casitas

- (wooden wren house covered in birdseed), individual self-hanging

Seed Ornaments

- mini Owls, Hearts and Stars (make great stocking stuffers!), and

Christmas Bells

. We also have

Christmas Blend

(a festive mix of seeds, nuts, fruit and Bark Butter Bits) and

Christmas Suet

(a high-energy treat for your birds with lots of nuts and fruit).
We have a great selection of holiday non-food items, too. Tabletop trees and decor, candles, bird-themed ornaments and more! Stop in today for the best selection of gifts for the bird lover in your life!
---